Doctoral Researcher
Medical Center – University of Freiburg
Department of Rheumatology and Clinical Immunology & Center for Chronic Immunodeficiency (CCI)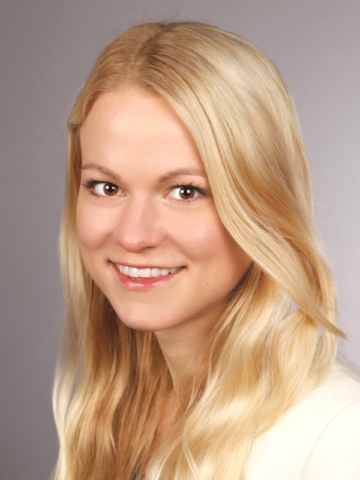 | | |
| --- | --- |
| 2017 – present | PhD student in the lab of Prof. Klaus Warnatz, Center for Chronic Immunodeficiency, Medical Center - University of Freiburg |
| 2014 – 2017 | Master of Science (MSc) in Immunology, University of Freiburg |
| 2015 – 2017 | Medicine, graduate entry, University of Freiburg |
| 2011 – 2014 | Bachelor of Science (BSc) in Immunology, University of Freiburg |
Publications
Baerbel Keller, Moneef Shoukier, Kathrin Schulz, Arshiya Bhatt, Ines Heine, Valentina Strohmeier, Carsten Speckmann, Niklas Engels, Klaus Warnatz and Jürgen Wielands. (2018) "Germline deletion of CIN85 in humans with X chromosome–linked antibody deficiency". J Exp Med. 2018 May 7;215(5):1327-1336.
Baerbel Keller, Ina Stumpf, Valentina Strohmeier, Susanne Usadel, Els Verhoyen, Hermann Eibel, Klaus Warnatz. (2017) "High SYK expression is contributing to pre-activation of CD21low B cells". J Immunol. 2017 Jun 1;198(11):4285-4292.
Marta Rizzi, Raquel Lorenzetti, Kathleen Fischer, Julian Staniek, Iga Janowska, Arianna Troilo, Valentina Strohmeier, Miriam Erlacher, Mirjam Kunze, Bettina Bannert, Diego Kyburz, Reinhard E. Voll, Nils Venhoff , Jens Thiel. (2016) "Impact of tofacitinib treatment on human B-cells in vitro and in vivo''. J Autoimmun. 2017 Feb;77:55-66.
Publications based on CRC1160 funding
Volk T, Warnatz K, Marks R, Urbach H, Schluh G, Strohmeier V, Rojas-Restrepo J, Grimbacher B, Rauer S. 2021. Pembrolizumab for treatment of progressive multifocal leukoencephalopathy in primary immunodeficiency and/or hematologic malignancy: a case series of five patients. J Neurol. 2021 Jul 1. doi: 10.1007/s00415-021-10682-8.
Globig, A. M., M. Heeg, C. S. Larsen, R. D. Ferreira, G. Kindle, S. Goldacker, V. Strohmeier, S. L. Silva, C. Cunningham-Rundles, I. Quinti, R. Thimme, D. Bettinger, M. Schultheiss, and K. Warnatz. 2021. International multicenter experience of transjugular intrahepatic portosystemic shunt implantation in patients with common variable immunodeficiency. J Allergy Clin Immunol Pract. 13:S2213-2198(21)00301-9.