Principal Investigator(Alumni)
Charité – Universitätsmedizin Berlin
Department of Rheumatology and Clinical Immunology
Campus Charité Mitte
Charitéplatz 1
10117 Berlin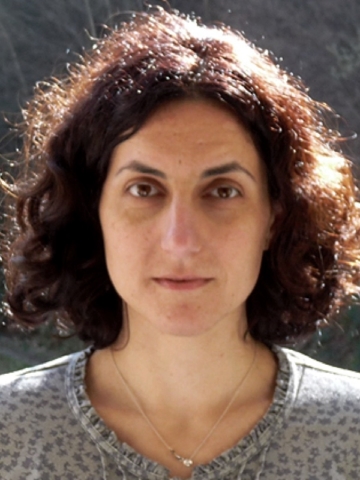 Current position
Senior Group leader, Department of Rheumatology and Clinical Immunology, Charité Berlin
Significant career breaks
| | |
| --- | --- |
| 11/2007 – 01/2008 | Maternity leave |
Academic training
| | |
| --- | --- |
| 1994 – 2001 | Study of Medicine in Athens, Greece |
Scientific qualifications
1999 – 2002
PhD Thesis in Pathophysiology, National University of Athens, Greece
2010
Medical School, Athens, Greece
(Supervisor: Prof. HM. Moutsopoulos)
Postgraduate Positions
since 09/2017
Senior Group Leader and Rheumatologist, Department of Rheumatology and Clinical Immunology, Charité Berlin & Liaison Group Leader, DRFZ Berlin, a Leibniz Institute
2013 – 2017
Junior Group leader and Rheumatologist, Department of Rheumatology and Clinical Immunology,
Medical Center – University of Freiburg
2009 – 2013
Postdoctorate, Center for Chronic Immunodeficiency,
Medical Center – University of Freiburg
2005 – 2009
Rheumatology Fellow, Academic-research track, Hospital for Special Surgery/Weill Medical College of Cornell University,
New York, USA
2002 – 2005
Internal Medicine Resident, Montefiore Medical Center, Albert Einstein College of Medicine, Bronx, New York, USA
Miscellaneous (Honors, Awards)
| | |
| --- | --- |
| 2014 | Research Fellow, Else Kröner Fresenius Forschungskolleg |
| 2011 – 2014 | FP7 Marie Curie International Re-integration Grant |
| 2007 – 2010 | SLE Lupus Foundation Physician Scientist Fellowship, New York |
| 2008 | Young Investigators Initiative Award, United States Bone and Joint Initiative |
| 2005 | Outstanding House Officer in Internal Medicine Award, Montefiore Medical Center, New York |
Publications based on CRC1160 funding
Viau, A., F. Bienaime, K. Lukas, A. P. Todkar, M. Knoll, T. A. Yakulov, A. Hofherr, O. Kretz, M. Helmstadter, W. Reichardt, S. Braeg, T. Aschman, A. Merkle, D. Pfeifer, V. I. Dumit, M. C. Gubler, R. Nitschke, T. B. Huber, F. Terzi, J. Dengjel, F. Grahammer, M. Kottgen, H. Busch, M. Boerries, G. Walz, Triantafyllopoulou, and E. W. Kuehn. 2018. Cilia-localized LKB1 regulates chemokine signaling, macrophage recruitment, and tissue homeostasis in the kidney. EMBO J 37.
Horn, V., and Triantafyllopoulou. 2018. DNA damage signaling and polyploid macrophages in chronic inflammation. Curr Opin Immunol 50: 55-63.
Herrtwich L, Nanda I, Evangelou K, Nikolova T, Horn V, Sagar, Erny D, Stefanowski J, Rogell L, Klein C, Gharun K, Follo M, Seidl M, Kremer B, Münke N, Senges J, Fliegauf M, Aschman T, Pfeifer D, Sarrazin S, Sieweke MH, Wagner D, Dierks C, Haaf T, Ness T, Zaiss MM, Voll RE, Deshmukh SD, Prinz M, Goldmann T, Hölscher C, Hauser AE, Lopez-Contreras AJ, Grün D, Gorgoulis V, Diefenbach A, Henneke P, Triantafyllopoulou A. 2016. DNA Damage Signaling Instructs Polyploid Macrophage Fate in Granulomas. Cell. 167(5):1264-1280.