Principal Investigator
Center for Medicine
Department for Pathology
Institute for Surgical Pathology
Breisacher Str. 115A
79106 Freiburg
+49 (0) 761 / 270-80650; -80400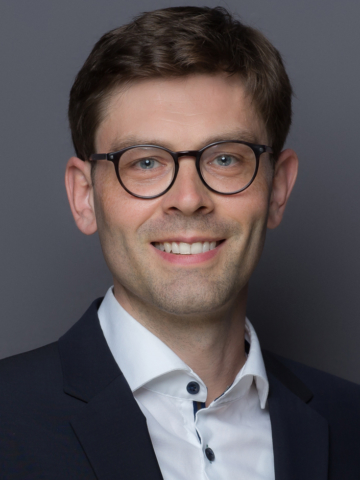 Current Position
Pathology Resident, Group Leader and Clinician-Scientist at the Institute of Surgical Pathology, Medical Center – University of Freiburg
Academic training
| | |
| --- | --- |
| 2011 - 2014 | PhD at SGBM graduate school, University of Freiburg |
| 2002 - 2008 | Medical School, LMU and TU Munich |
Scientific training
2020
Habilitation in Experimental Pathology, University of Freiburg
(Mentor: Prof. Dr. M. Werner & Prof. Dr. T. Huber)
2014
Dissertation (Dr. rer. nat.), Faculty of Biology, University of Freiburg
(Supervisor: Prof. Dr. T. Huber)
2012
Dissertation (Dr. med.) LMU University of Munich
(Supervisor: Prof. Dr. A. Mayrhofer)
Postgraduate positions
2017 - present
Group Leader, Institute of Surgical Pathology,
Medical Center - University of Freiburg
2016 - present
Pathology Resident, Institute of Surgical Pathology,
Medical Center - University of Freiburg
2014 - 2015
Junior Group Leader, Department of Nephrology,
Medical Center - University of Freiburg
2011 - 2015
Reserach Fellow, Department of Nephrology,
Medical Center - University of Freiburg
2010- 2011
Internal Medicine Residency,
Medical Center - University of Freiburg
2009 - 2010
Internal Medicine Residency,
Medical Center - University of Freiburg
Miscellaneous (Honors, Awards)
| | |
| --- | --- |
| 2017 - 2020 | Berta-Ottenstein Clinician Scientist Fellow |
| 2014 | Research Stipend – German Society of Nephrology |
| 2013 - 2014 | Clinician Scientist Fellowship – NAKSYS (EKFS) |
link to all publications from C. Schell: Pubmed
Publications based on CRC1160 funding
Ruckert, T., G. Andrieux, M. Boerries, K. Hanke-Muller, N. M. Woessner, S. Doetsch, C. Schell, K. Aumann, J. Kolter, A. Schmitt-Graeff, M. Schiff, L. M. Braun, E. Haring, S. Kissel, B. A. Siranosian, A. S. Bhatt, P. Nordkild, J. Wehkamp, B. A. H. Jensen, S. Minguet, J. Duyster, R. Zeiser, and N. Kohler. 2022. Human beta-defensin 2 ameliorates acute GVHD by limiting ileal neutrophil infiltration and restraining T cell receptor signaling. Sci Transl Med 14: eabp9675. doi: 10.1126/scitranslmed.abp9675.
Weissert, K., S. Ammann, T. Kogl, V. Dettmer-Monaco, C.  Schell, T. Cathomen, S. Ehl, and P. Aichele. 2022. Adoptive T cell therapy cures mice from active hemophagocytic lymphohistiocytosis (HLH). EMBO Mol Med: e16085. doi: 10.15252/emmm.202216085.
Strohmeier, V., G. Andrieux, S. Unger, A. Pascual-Reguant, A. Klocperk, M. Seidl, O. C. Marques, M. Eckert, K. Grawe, M. Shabani, C. von Spee-Mayer, D. Friedmann, I. Harder, S. Gutenberger, B. Keller, M. Proietti, A. Bulashevska, B. Grimbacher, J. Provaznik, V. Benes, S. Goldacker, C. Schell, A. E. Hauser, M. Boerries, P. Hasselblatt, and K. Warnatz. 2022. Interferon-Driven Immune Dysregulation in Common Variable Immunodeficiency-Associated Villous Atrophy and Norovirus Infection. J Clin Immunol. pii: 10.1007/s10875-022-01379-2. doi: 10.1007/s10875-022-01379-2.
Globig AM, Mayer LS, Heeg M, Andrieux G, Ku M, Otto-Mora P, Hipp A, Zoldan K, Pattekar A, Rana N, Schell C, Boerries M, Hofmann M, Neumann-Haefelin C, Kuellmer A, Schmidt A, Boettler T, Tomov V, Thimme R, Hasselblatt P, Bengsch B. Gastroenterology. 2022. Exhaustion of CD39-expressing CD8+ T cells in Crohn's disease is linked to clinical outcome. First published: 2022 Jun 20:S0016-5085(22)00663-1. doi: 10.1053/j.gastro.2022.06.045. Online ahead of print.